The Official Football Merchandise Store

Fifteen years after sinking into the fifth tier of the football league and two years since the arrival of stars from Hollywood – Wrexham's promotion hopes could rest with Boreham Wood.
The North Wales-based club has been in the fifth division since 2008 but in November 2020 was bought by Hollywood star Ryan Reynolds and It's Always Sunny In Philadelphia co-creator Rob McElhenney.
Their involvement has given the club international recognition as the subject of an FX documentary released on Disney+ in the UK – Welcome To Wrexham.
It's gained big-name sponsors in Expedia and TikTok and has even been a featured team on FIFA 22 and 23.
On Saturday, Wrexham face a crucial match.
Win and they will be back in League Two next season after a long wait. Lose and it will be a nerve-wracking game at Torquay on 29 April as they would have to hope for a win there to be automatically promoted.
Such is the significance of the match that fans have travelled from all over the world, including one fan who has left the US for the first time.
One person who knows the club's owners well is Maxine Hughes, a US-based journalist originally from Conwy in North Wales who acts as their unofficial Welsh translator.
She told Sky News they "understood Wrexham right from the beginning".
"They saw the town, and Wales as something they could easily get on board with," she said.
"I think for Rob particularly, Wrexham reminds him of where he grew up."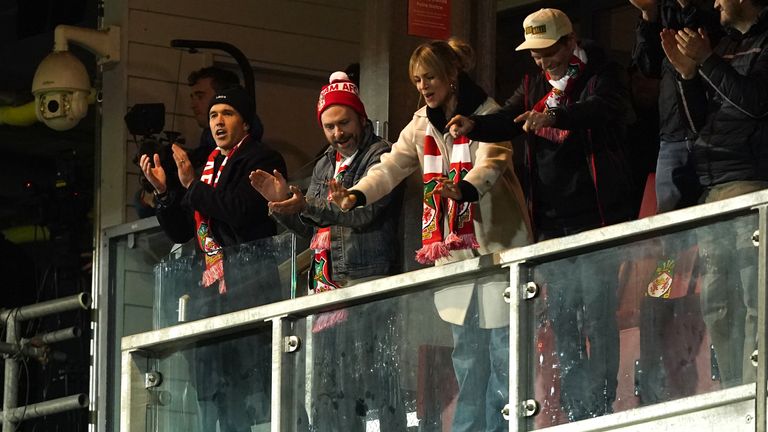 According to Hughes, the club's owners have "fallen in love with Wales" and they "have this incredible respect for Wrexham AFC supporters".
"I'll always be grateful to Rob and Ryan for giving the Welsh language the boost they've given it," she added.
'It's about a community'
Wrexham's 3-0 win over Yeovil on Tuesday, which was watched by McElhenney's comedy co-stars at the Racecourse, mean they need three points from two games for automatic promotion.
Phil Parkinson's side will face a strong challenge though as Boreham Wood are unlikely to give them the three points on a plate.
When the two sides met in October last year, it ended in a draw – although this time Wrexham will hope to go a step further with a home advantage.
Wrexham came close to winning promotion last season after it finished second in the league, but missed out in the play-offs.
Their bid for promotion comes after Wrexham's women recently reached the Adran Premier – the top flight of women's football in Wales.
Could the team's top scorer Paul Mullin be involved in securing a victory? He has scored 36 goals for Wrexham in the league so far this season.
Read more:
US comedy stars cheer on Wrexham
Welsh football museum gets £5m funding boost
Wrexham owners honoured for 'promoting Wales to the world'
Boreham Wood are currently in sixth place on the table having won two of their last five games.
If Wrexham secures a victory on Saturday, their wait will finally be over and fans would have a moment to remember at the Racecourse.
But Hughes added that "the growing success of Wrexham AFC isn't just about Rob and Ryan".
"It's about a community, who have stuck by that team through thick and thin," she said.
"And I think that's why the story if Wrexham has captured the world, it's the people who make Wrexham what it is, and what it is becoming, and I'm in awe of the community of Wrexham every day."
The Official Football Merchandise Store Liverpool Chelsea Manchester City Arsenal Tottenham Hotspur Manchester United Leicester City Newcastle United West Ham United Barcelona Real Madrid

Source link