The Official Football Merchandise Store

One in 10 women feel suicidal because of the abuse they face while gaming.
New research for Sky Broadband shows that of 4,000 female gamers surveyed 49% have faced abuse or harassment when playing or streaming online – rising to 75% of those aged 18 to 24.
The levels of harassment are so strong that 25% of women surveyed admitted to feeling depressed, 40% have felt personally threatened by the abuse they've experienced online, and 27% worried about being attacked in real life following threats made on gaming platforms.
Renata Miranda Antelo games every day and told Sky News the toxic culture is relentless.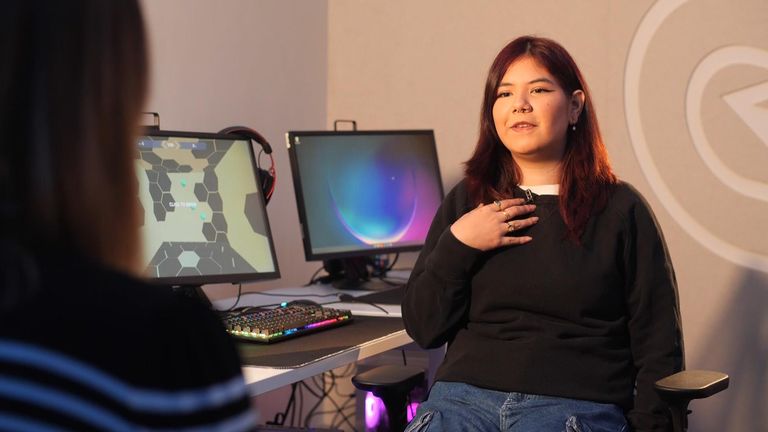 "I think one of the most annoying things is when they ask you where you live, where you're from, what's your Instagram, how old you are, if you want to visit them in their home countries," she said.
"And it's just a constant cycle of what's your Instagram, What's your Instagram? And then sometimes you don't want to say anything back, so you just don't say anything at all, which is what I hear a lot from people – they're like, 'Oh, just mute them or just don't say anything back'."
"But it keeps going and it keeps going to the point where they then start swearing at you and they then start saying abuse because they're not getting the reaction that they want from you."
Steffy Evans is a streamer who uses TikTok to highlight the misogyny she faces online, posting videos which feature men swearing and threatening her.
She says she hopes to help others by exposing the reality of what women face while gaming.
"What I'm doing with all of this is I'm bringing light to it and hyping and boosting women's confidence to keep playing the game, to keep their mics on, to even talk back to these guys," Ms Evans told Sky News.
"Obviously, if I could take it on a bigger scale than it would be to get them permanently banned or get real-life consequences."
"But there's only so much I can do, and that is putting light to what's happening in the game and [encouraging other women to] keep your confidence up and speak up."
Read more:
Nintendo's Advance Wars 1+2: Re-Boot Camp finally releases
Diablo: How franchise is targeting younger players
Also taking action is Guild – an esports team backed by David Beckham – which competes online against other teams.
It launched an immersive campaign, to highlight the abuse female players face.
"The reality is if this was happening on a football pitch, you would have a ref that would like literally blow a whistle and send someone off," explained Guild Esports CEO Jasmine Skee.
"We can't keep watching these numbers keep happening and these women keep having this experience."
"This is all about looking after their mental health and making sure women feel that they can play and do the thing that they love and feel very inclusive of it."
Gaming is big business, it's expected to be worth more than £279bn by 2026.
But while the industry continues to grow, it seems progress is much slower and real change is needed for it to no longer be a man's world.
The Official Football Merchandise Store Liverpool Chelsea Manchester City Arsenal Tottenham Hotspur Manchester United Leicester City Newcastle United West Ham United Barcelona Real Madrid

Source link