The Official Football Merchandise Store

Nearly 200 Metropolitan Police officers and staff members who have been accused of domestic violence or sexual offences within the past 10 years may face dismissal.
Commissioner Sir Mark Rowley, who began the job in September, believes there are hundreds of corrupt officers serving in the force who should not be there.
Updating Home Secretary Suella Braverman and Mayor of London Sadiq Khan in a letter on reviews in the force, he said more than 1,000 records where officers and staff were accused of domestic violence or sexual offences in the past 10 years to April 2022 have already been rechecked, to make sure the correct decision was taken.
Of those, 246 will see no further action and 689 will have their case reassessed.
Meanwhile, 196 will be referred to formal risk management measures and may have their vetting status reviewed to determine if they should remain in the Met, the letter said.
Each of the cases will also be reviewed by an external panel.
The Met – branded institutionally racist, homophobic and misogynist in a major review – has lurched between a series of scandals in recent years, including the murder of Sarah Everard by a serving officer and ex-PC David Carrick being unmasked as a serial abuser and rapist.
Baroness Casey: 'Systemic' discrimination in Met Police

The letter also revealed that almost 100 Metropolitan Police officers have been diverted from crime squads to internal standards in a bid to root out colleagues deemed unfit for the job.
"Not only have we increased our DPS by 150 people, but the scale and urgency of this work has meant diverting officers from other missions such as serious and organised crime and counter-terrorism," the commissioner said.
"Over the last three months we have had, on average, 90 additional officers and staff from these areas supporting DPS.
"The shared determination has been seen through the excess of volunteers.
"We have taken this decision because we cannot succeed in any policing mission unless we resolve these issues as urgently as possible."
Sir Mark said this will go alongside longer-term plans including leadership training to address wider cultural problems.
"The most urgent thing is to, if you like, remove the cancer from the body and that's what this is about, that first step," he said.
The series of scandals at the Met Police
Baroness Casey's report released last month listed a series of scandals that had "damaged the Met's reputation and cast doubt upon its culture and standards". They included:
• The kidnap, rape, and murder of Sarah Everard by serving Met officer Wayne Couzens in March 2021
• The Met's handling of a public vigil held following Ms Everard's murder
• An independent report – published in June 2021 – into the 1987 axe murder of Daniel Morgan, which found institutional corruption in the Met
• An inquest in December 2021 for the victims of serial killer Stephen Port found that fundamental failings by the Met "probably" contributed to three of the four deaths
• The jailing in December 2021 of two Met officers for taking and sharing photos of two murdered women, Bibaa Henry and Nicole Smallman
• A police watchdog report in February last year which identified misogyny, harassment, and bullying – including racist, sexist and homophobic messages– among officers based at Charing Cross police station between 2016 and 2018
• A child safeguarding report in March 2022 which revealed a 15-year-old black schoolgirl was strip-searched by police after she was wrongly suspected of carrying cannabis
• The jailing in February of police officer David Carrick, who admitted 49 charges – including 24 counts of rape – against 12 women.
Tightening the rules
Sir Mark is also considering tightening the rules around officers and staff with criminal convictions, to ban anyone prosecuted for anything other than "the most trivial matters" or offences committed under the age of 18.
The letter revealed 161 Met officers have criminal convictions – 76 for serious traffic offences and 49 for crimes of dishonesty or violence.
Other crimes include drug possession, criminal damage and public order offences, and three serving officers have convictions for sexual offences.
Sir Mark said this made for "uncomfortable reading" and his standards unit will examine each case to assess whether restrictions need to be placed on these officers or if they should be re-vetted.
Other measures include checking all 50,000 employees of the Met against the police national database – a process which has so far identified 38 cases of potential misconduct and 55 cases of an off-duty association with a criminal.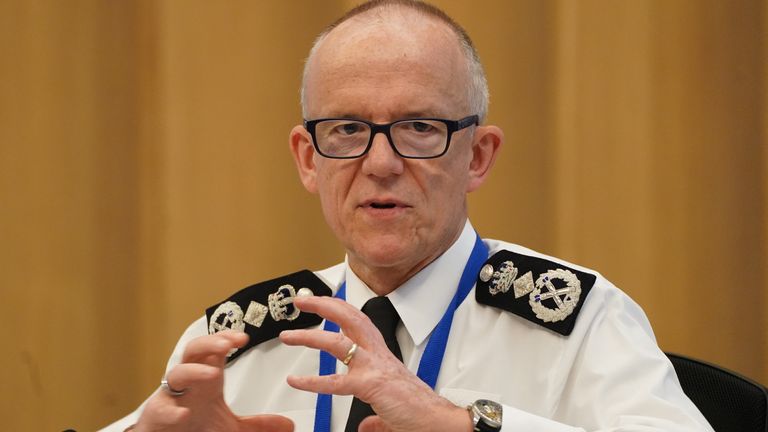 Vetting rules have already been toughened up with officers and staff being re-vetted if their behaviour is of concern.
The letter also revealed that a public hotline allowing members to report Met Police officers who abuse their trust has resulted in 350 reports that are being responded to, as well as some officers being arrested and suspended.
Ms Braverman said: "The Met plays a unique role in keeping millions of Londoners safe and protecting the country from terrorism, so it is crucial the public has confidence in the force to carry out these duties with the utmost professionalism.
"I have been clear that a relentless focus on improving standards and common sense policing is required.
"Sir Mark's update on the work to root out unfit officers demonstrates the scale of this challenge but I have confidence in his plan to turn around the Met and ensure the force is delivering for the public.
"I am also driving forward work to review the police dismissals process to ensure the system is effective at removing officers who fall below the standards we expect."
The Official Football Merchandise Store Liverpool Chelsea Manchester City Arsenal Tottenham Hotspur Manchester United Leicester City Newcastle United West Ham United Barcelona Real Madrid

Source link