The Official Football Merchandise Store

A significant number of Liverpool fans booed the national anthem ahead of their Premier League match against Brentford on Saturday afternoon.
When the first notes of God Save The King began to play as both teams lined up around the centre circle, the majority of supporters at Anfield voiced their opposition, before the Kop broke into chants of "Liverpool".
The Premier League had asked all clubs playing at home this weekend to play the anthem to mark the coronation of the King.
Liverpool confirmed on Friday morning they would do so despite a long-standing antipathy between the club's fans and what they perceive as the establishment.
"Just over a week ago, the Premier League contacted all home clubs and strongly suggested to mark this historic occasion across home matches this weekend and provided a list of activity for clubs to get involved in," they said.
"Before kick-off and in recognition of the Premier League's request to mark the coronation, players and officials will congregate around the centre circle when the national anthem will be played.
"It is, of course, a personal choice how those at Anfield on Saturday mark this occasion and we know some supporters have strong views on it."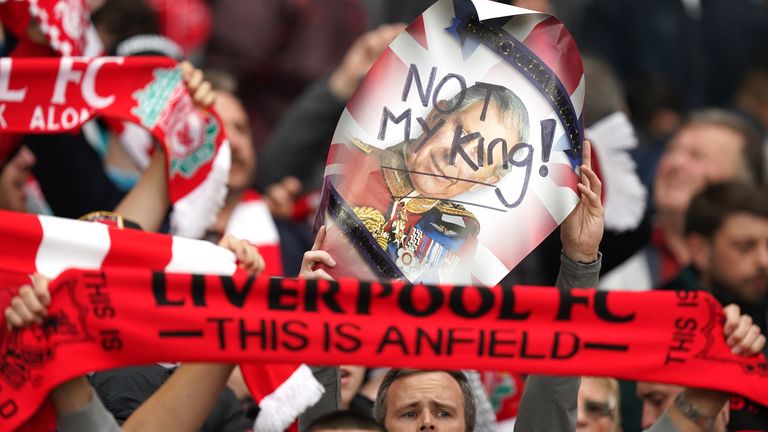 Potential trouble had been flagged when the club played Fulham in the league on Wednesday evening, and fans sang: "You can stick your coronation up your a**e".
Read more:
King crowned in historic coronation
Protesters boo as King is crowned with more than 50 arrested
How the coronation was marked across the UK
In May last year, supporters also booed the anthem during the FA Cup final which was attended by the Prince of Wales.
The club's manager Jurgen Klopp said on Friday that "the club's position is my position. I have said a couple of times this is definitely a subject I cannot have a proper opinion about".
Journalist Caoimhe O'Neill told The Athletic that "it's something Liverpool fans have done for such a long time. It's always been an anti-establishment protest".
"It feels like a movement and a protest and one that's not always maybe respected – people just jump on it as something that would upset the king or something.
"It's not necessarily about him or the royal family necessarily. That's the important point to make: it's about the establishment as a whole, this conglomerate of things that Liverpool fans disagree with."
The Official Football Merchandise Store Liverpool Chelsea Manchester City Arsenal Tottenham Hotspur Manchester United Leicester City Newcastle United West Ham United Barcelona Real Madrid

Source link