The Official Football Merchandise Store

Lewis Capaldi has been memorialised in papier-mache, ping pong balls and bronze spray paint by pupils at his former school.
Students at St Kentigern's Academy in Blackburn, West Lothian, presented the singer with the sculpture, which principal art teacher Bryan Johnstone said was "intentionally bad, bizarre and odd-looking".
Capaldi described the statue as "the most beautiful and bizarre gift ever", Mr Johnstone told Sky News.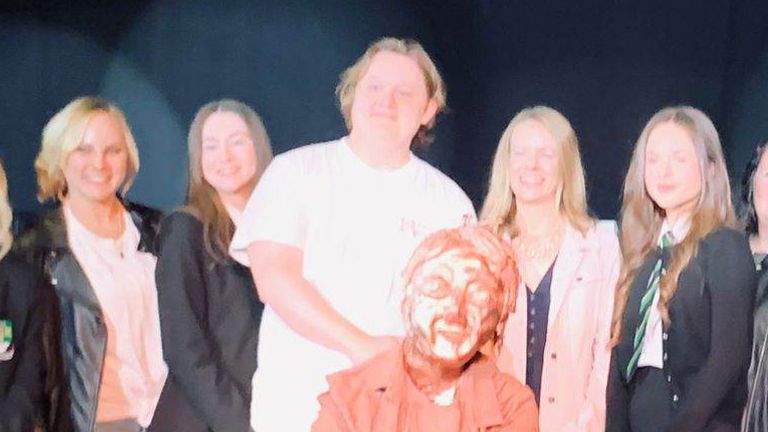 "Lewis, as we know, is great at laughing at himself and self-deprecating, hence why the plan was to do something like this," he said.
The art department took inspiration from the fake David Beckham statue, which James Corden pranked the footballer with – and Mr Johnstone said Capaldi quickly picked up on the reference.
The sculpture was based on a mannequin "upon which we built with wire mesh, papier-mache, air clay, real clothing and a couple of ping-pong balls for eyes", he said.
It was then spray painted bronze and placed on a plinth – a nod to Capaldi's new album cover.
Read more:
Bizarre statue of Portugal star Cristiano Ronaldo provokes ridicule
Mohamed Salah statue: Football fans ridicule bizarre depiction of Liverpool star
Capaldi, 26, visited his former school in West Lothian on Monday for the unveiling.
Mr Johnstone said seven students from S4 (Year 11) were involved with the project alongside four art teachers.
The planning process took a few months after the school was approached by Capaldi's team and the build took a few weeks, he said.
"The students have been amazing throughout and managed to keep the whole thing top secret," he said.
The Official Football Merchandise Store Liverpool Chelsea Manchester City Arsenal Tottenham Hotspur Manchester United Leicester City Newcastle United West Ham United Barcelona Real Madrid

Source link