The Official Football Merchandise Store

US actors and writers have come out in force to protest outside some of the biggest production companies in the world in a move set to paralyse Hollywood's film and TV industry.
For the first time in 63 years, both SAG-AFTRA (the Screen Actors Guild – American Federation of Television and Radio Artists) and WGA (the Writers Guild of America) simultaneously took to the streets of Los Angeles in a bid for fairer pay, better working conditions and addressing the concerns of AI use in production.
Ted Lasso star Jason Sudeikis, Titanic actress Frances Fisher and radio and TV host Billy Bush were some of the famous faces spotted on the picket line as the joint protests started on Friday.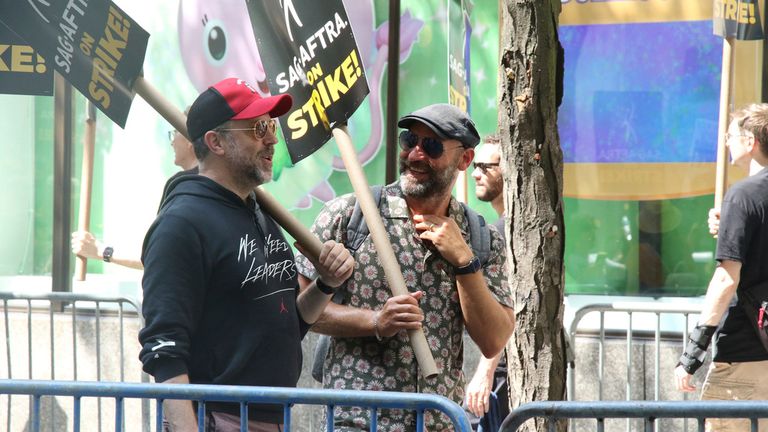 Discussions broke down between the unions and the Alliance of Motion Picture and Television Producers (AMPTP) which represents film studios, TV networks and streaming services.
Actors and writers claim their residual pay, money received from film and TV episode reruns, have been hit hard due to the streaming boom – broadcast TV rates were much higher.
Series have become shorter, breaks between seasons longer, and the unions say that although series budgets are rising, that increase is not being reflected in the share of the money coming to performers.
Actors also see their jobs as especially vulnerable to new technology, with AI able to replicate facial expressions, body movement and voice with alarming accuracy.
Members of both unions marched outside major studios including Warner Bros, Netflix and Disney. The 11,500 screenwriters belonging to WGA have been demonstrating since May.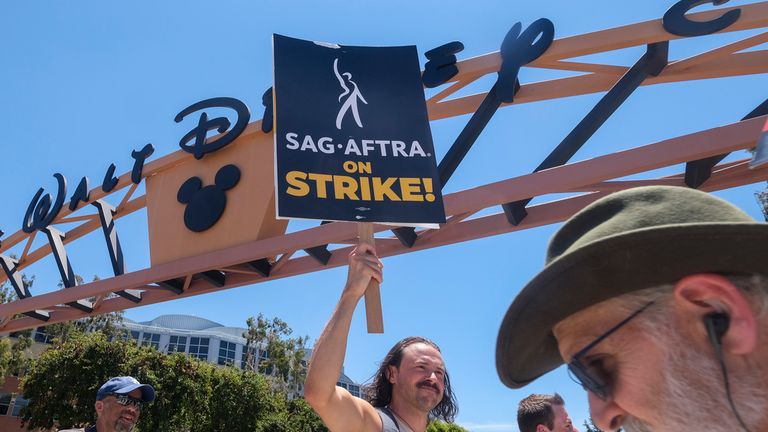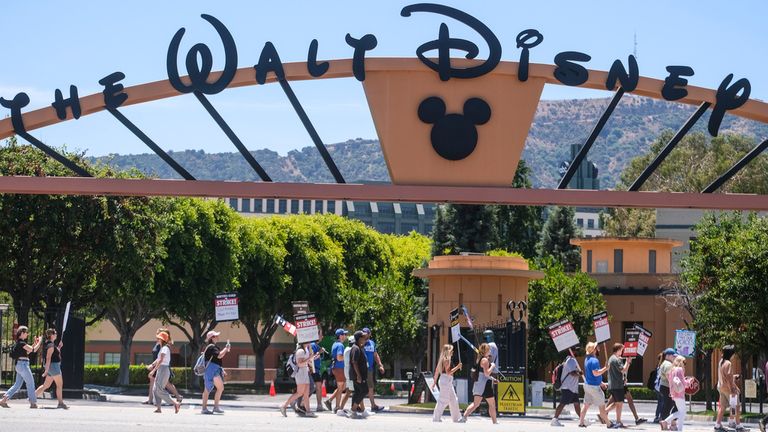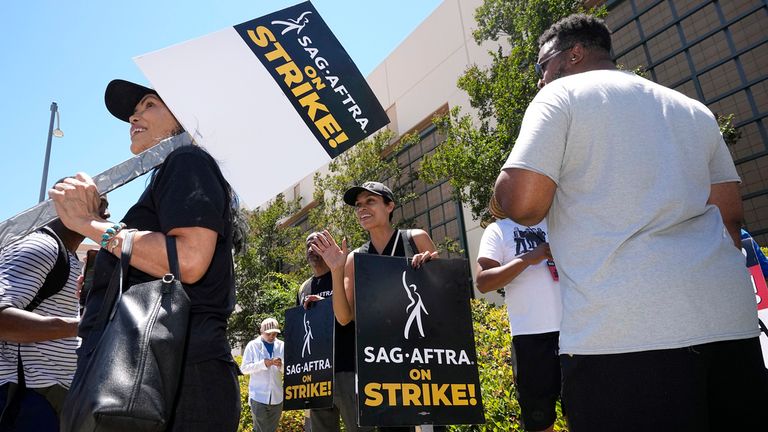 What about British cinema?
The chief executive of the UK Cinema Association, Phil Clapp, said the strike may cause "little, if any, disruption" to British theatres for the "foreseeable future", but premieres may not see the glamour of stars on the red carpet.
"While it will clearly be for each individual to make their own decision, it may be that until the dispute is resolved we will see some premieres not being supported by the 'talent' in front of or behind the camera," he said.
"In terms of wider UK cinema-going, given the challenges UK cinema operators have faced in the last few years, all will be concerned by anything which might potentially threaten the supply of films to the big screen, and so it is very much hoped that there will be a quick resolution.
"Unless the current strike is a protracted one, we are confident that cinemas will see little if any disruption in the foreseeable future."
Some productions in the UK have already been suspended as a result of the strike; Marvel's Deadpool 3, featuring Ryan Reyolds and Hugh Jackman, has paused its filming in Norfolk.
Pictures also emerged this week of the abandoned set of Wicked in Buckinghamshire, after its stars Ariana Grande and Cynthia Eviro posted in support of the strike on social media.
Oppenheimer cast support strike

Further solidarity was expressed by celebrities including George Clooney, Alec Baldwin and Halle Berry.
"This is an inflection point in our industry," Clooney said in a statement. "Actors and writers in large numbers have lost their ability to make a living.
"For our industry to survive that has to change. For actors that journey starts now."
Baldwin, who had all criminal charges dropped against him 18 months after Halyna Hutchins was shot dead on a film set, congratulated the union for calling the strike in order to protect its "rank and file" members.
"I don't think anybody really wants a strike but they don't want to continue under the unfair contracts that we're working under now," he said.
"So congratulations to everybody and I hope this is over right after we get everything we want."
Read more:
Christopher Nolan didn't intend for Oppenheimer movie to be so timely
Just Stop Oil protesters interrupt Proms concert
Brian Cox: 'Strikes may get unpleasant'

During the London premiere of the historical epic Oppenheimer on Thursday, actors including Matt Damon, Robert Downey Jr, and Emily Blunt left the red carpet to "write their picket signs", the film's director Christopher Nolan said.
Meanwhile, Succession star Brian Cox said the strike could get "very unpleasant" and may not be resolved until the end of the year.
The 1960 Hollywood revolt began and ended with screenwriters protesting for 148 days, with 42 days of actors striking sandwiched in between.
There had been no further dual strikes until now.
Which films are on hold because of the SAG-AFTRA strike?
The following productions are shutting down until the companies and the unions reach a deal: Gladiator 2, Juror #2, Mission: Impossible – Dead Reckoning Part Two and an Untitled F1 drama.
The Official Football Merchandise Store Liverpool Chelsea Manchester City Arsenal Tottenham Hotspur Manchester United Leicester City Newcastle United West Ham United Barcelona Real Madrid

Source link