The Official Football Merchandise Store

It was the not-so secret set tens of thousands of Glastonbury fans were hoping to see – the Foo Fighters performing as mystery band The ChurnUps on the Pyramid stage.
The group opened with All My Life to a roar of applause from a massive crowd of fans who turned out to see them play in the sunshine.
After The Pretender, frontman Dave Grohl told them: "You guys knew it was us this whole time, you knew it… We're not good at secrets."
And the final song, Everlong, was dedicated to the late Foo Fighters drummer Taylor Hawkins, who died last year.
Sir Paul McCartney was among the VIPs watching from the side of the stage as the band performed.
Speculation had been rife following Glastonbury's announcement last month that a previously unheard of act was set to play such a prime-time slot on the main stage, just ahead of Royal Blood and headliners Arctic Monkeys.
While initial rumours favoured Britpop legends Pulp, the clues soon started to point to the US rock stars – with Grohl posting a note on social media ahead of the festival referring to a "churning up" of emotions, which seemed to all but confirm it.
About an hour before the big reveal on stage, the band posted a photo of some of the flags being waved in the crowd – with the most prominent bearing the words: "Churn It Up."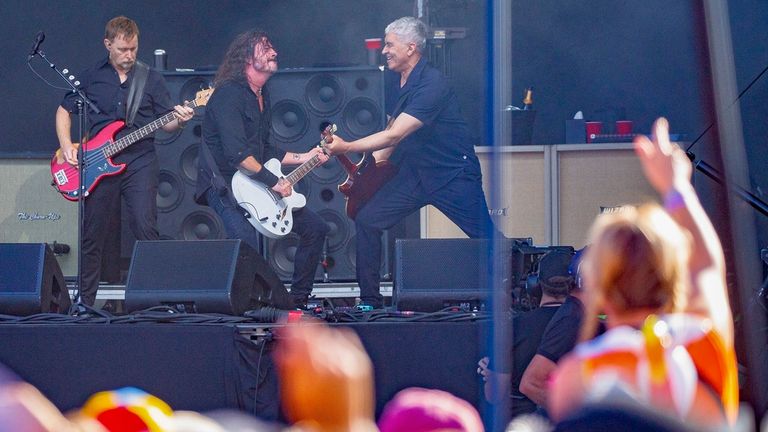 Foo Fighters headlined Glastonbury in 2017, two years after being forced to pull out when Grohl broke his leg. The frontman returned to the main stage in 2022, when he and Bruce Springsteen joined Sir Paul for his headline performance.
"It's nice to see your faces again, it's been a long time," Grohl told the crowd during the Foos' return. "This is another beautiful day, another beautiful audience."
The performance also featured a surprise guest, as is often Glastonbury tradition – this time from Grohl's daughter, Violet, who he described as "his favourite singer in the world".
The pair performed a song written for the star's mother.
Read more:
Hair salons and beauty bars – how festival has gone from grime to glam
Stars get ready for first Glastonbury appearance
Arctic Monkeys to play Glastonbury after all
Grohl also thanked drummer Josh Freese – "the man who helped us to be here today" following Hawkins' sudden death.
And he promised the band would be back in the UK for tour dates in 2024.
"Well it's nice to be here for 58 mins and 30 seconds," he said, as the band prepared for Everlong. "We usually play this one as our way to say goodbye because we never like to say goodbye. I figure that if you guys come back we'll come back soon.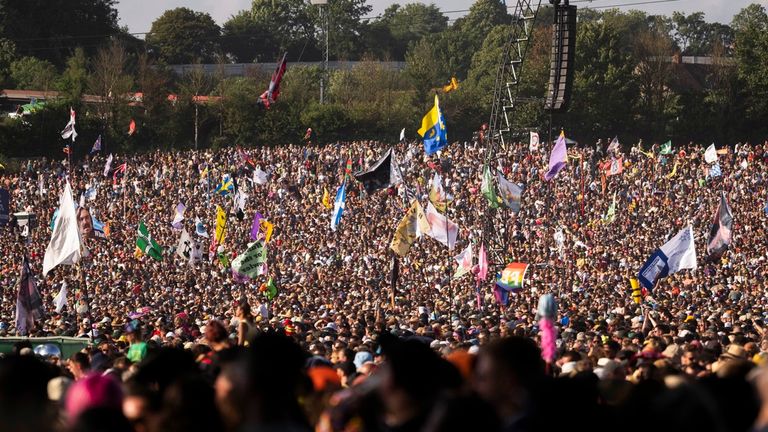 "But I already know we're coming back for a whole f****** tour. I would like to thank every one of you for sticking around for the last 28 years."
He added: "I would like to dedicate this song to Mr Taylor Hawkins. So let's sing this one loud, we're missing Taylor."
Glastonbury is all about the unexpected moments – and while the Foo Fighters' appearance wasn't too much of a surprise in the end, their secret performance is going to be a hard act to beat.
The Official Football Merchandise Store Liverpool Chelsea Manchester City Arsenal Tottenham Hotspur Manchester United Leicester City Newcastle United West Ham United Barcelona Real Madrid

Source link