#1 Football Merchandise & Souvenirs Store

Wales is tightening coronavirus restrictions and will begin shutting services on Christmas Eve, while advising people to reduce the number of households meeting over the festive period.
The Welsh first minister announced only two households should form exclusive "Christmas bubbles" during the five-day lifting of restrictions.
Meanwhile, all non-essential retail, leisure and fitness centres in Wales will shut at close of trading on Christmas Eve.
And all hospitality premises will close from 6pm on Christmas Day as the devolved government attempts to bring the spread of the virus under control, Mark Drakeford said in a news conference.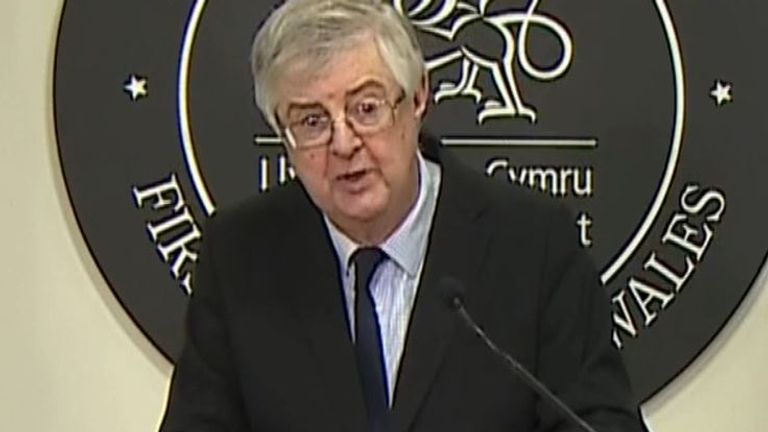 The nation will move to alert level 4 (equivalent to a lockdown), with social contact outside households or support bubbles banned, from 28 December for an initial period of three weeks.
Mr Drakeford deviated from the UK-wide plan announced by Boris Johnson, that would have seen three households allowed to form a festive bubble between 23 and 27 December.
Talks involving the Michael Gove and leaders of the devolved administration on Tuesday agreed to continue with the planned relaxations, but with a stronger message warning people of the dangers.
Boris Johnson told prime minister's questions on Wednesday leaders were in a "unanimous agreement" that Christmas would continue as was planned across the country "with the existing regulations" in place.
However, Mr Drakeford said: "This has been such a long and difficult year. But that cannot lift the responsibility from us to act now."
'There is unanimous agreement over Christmas'

He added: "The clear message from the Welsh government is that only two households should meet.
"Whether that's guidance or regulation the message is the same – only two households should get together."
Mr Drakeford said a joint four-nations statement was still expected, but would not say whether the two-household guidance would apply across the UK.
Referring to yesterday's talks with Mr Gove he said: "Yesterday, I met the first ministers of Scotland and Northern Ireland and Michael Gove from the UK Government to discuss the common arrangements for the five-day Christmas period.
"We had a further meeting this morning. In the few short weeks since we made this decision, the situation has changed drastically as coronavirus has gripped the UK country once again.
"Later today, we will publish joint advice across the UK, explaining that a smaller Christmas is a safer Christmas."
Meanwhile, Scotland's First Minister Nicola Sturgeon also deviated from the government's UK-wide plan.
She recommended that those people forming a Christmas bubble should only meet up on one day, instead of five, and not stay overnight "unless it is unavoidable".
She said: "Firstly and unequivocally the safest way to spend Christmas this year for you and for those you love is to stay within your own household and your own home.
"My strong recommendation is this is what you should do if at all possible."
The new four level system in Wales, called the Coronavirus Control Plan, was revealed on Monday.
Under level 4 you must stay at home if possible, not mix with anyone outside your household or support bubble, either indoors or outside, and not travel without a reasonable excuse.
Gyms, hospitality and non-essential retail are all closed.
#1 Football Merchandise & Souvenirs Store Liverpool Chelsea Manchester City Arsenal Tottenham Hotspur Manchester United Leicester City Newcastle United West Ham United Barcelona Real Madrid

Source link