The Official Football Merchandise Store

Shakespeare and the Spice Girls were used by environmental protestors to repeatedly disrupt the Barclays annual general meeting (AGM) in central London on Wednesday morning.
Activists from Extinction Rebellion, Fossil Free London and Climate Choir were protesting the UK high street bank's investment in new fossil fuel projects despite heavy security at the AGM venue.
The first interruption came as dozens of protestors broke out in song with a variant of the Spice Girl's Stop with lyrics changed.
"Stop right now, no more oil and gas. Stop burning fossil fuels and end this madness.
"Hey you, burning up the earth… we've had enough."
"You dirty, dirty bank" they sang.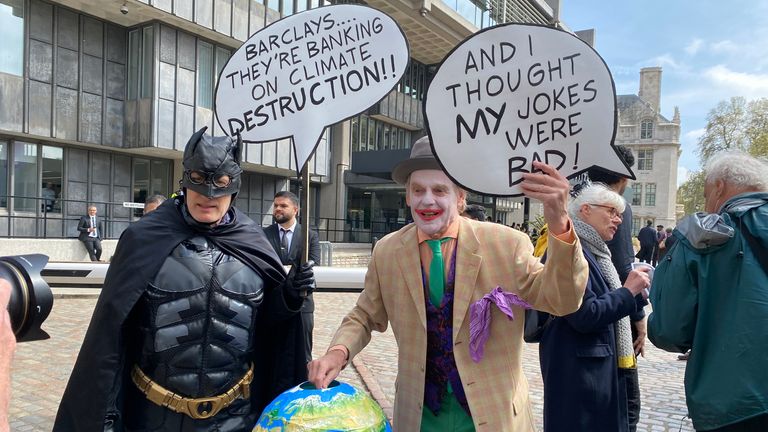 The singing continued for several minutes as the protesters were ushered out of the room and could still be heard outside the room when all singers had left.
It was the first of numerous disruptions as Fossil Free London used Shakespearean dialogue to sporadically interrupt speakers.
"Don't shuffle off this mortal coil", protestors said, "keep it in the soil" they added, referencing their call not to extract more fossil fuels.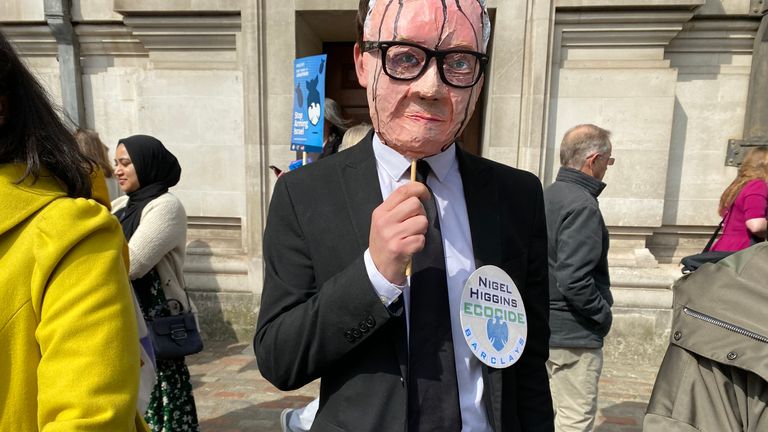 Groans were audible as individuals started Shakespearean speeches after other protesters were escorted out.
Barclays group chairman Nigel Higgins said he wished the protesters "would shuffle off". The Barclays company secretary and Mr Higgins continued to speak throughout speeches.
"I'm sorry about this because I know the vast majority have come here to ask questions and we can't respond to this", Mr Higgins said.
Individual protesters also stood up with signs and shouted calls not to invest in new fossil fuel projects, with one man seen carried out of the venue.
Mr Higgins said the bank has enhanced climate measure and welcomes feedback on how they can improve.
In the AGM notice, Barclays said: "Addressing the climate challenge continues to be one of the board's top
priorities, and we have made progress in implementing our strategy, as set out in detail in our 2022 annual report."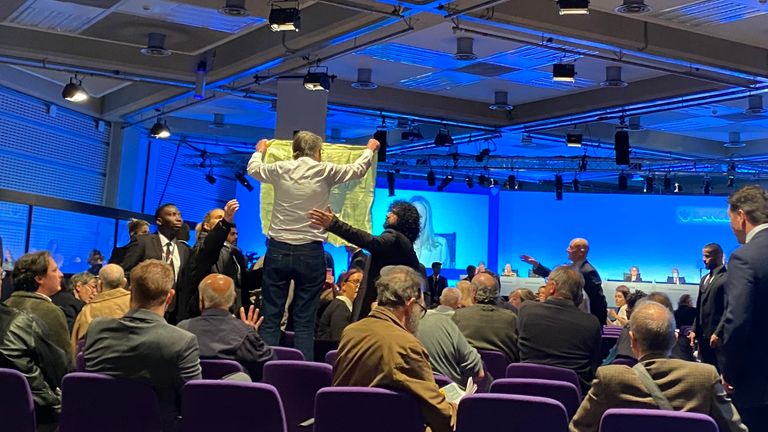 "We have also brought forward the phase-out of US (and all OECD) coal-fired power financing from 2035 to 2030".
"There have been calls, including from the IEA [International Energy Agency] and the UN, for no new oil and gas exploration if the world is to stay below 1.5 degrees warming.
"At the same time, the war in Ukraine has shone a new light on the importance of energy security and affordability for countries around the world.
"Any transition to a low carbon economy needs to ensure communities have access to affordable energy."
The Official Football Merchandise Store Liverpool Chelsea Manchester City Arsenal Tottenham Hotspur Manchester United Leicester City Newcastle United West Ham United Barcelona Real Madrid

Source link