The Official Football Merchandise Store

Cardiff City have been ordered to make the last two payments to Nantes for Emiliano Sala's transfer by FIFA.
The Argentinian forward died when the light aircraft he was travelling in from France crashed into the English Channel in January 2019, two days after Cardiff announced they had signed the 28-year-old.
Nantes claim for the first €6m (£5.1m) of the £15m transfer fee was upheld by the Court of Arbitration for Sport (CAS) last August, and Cardiff announced on Friday they had now been ordered by FIFA to pay the last two instalments of the fee as well.
The Welsh club have paid the first instalment and it is understood they intend – albeit reluctantly – to pay the remaining two.
Cardiff have lodged a negligence claim in the French courts against Nantes.
They maintain Nantes must be held accountable for the accident which led to the striker's death, saying the flight was organised by Nantes' agent.
The Championship side's statement said Nantes chief executive Franck Kita had been placed in police custody alongside agent Bakari Sanogo.
They said the arrest related to an investigation opened in France last June into allegations of illegal exercise of sports agent activity, forgery and use of forgery, misuse of corporate assets and money laundering.
The club said their negligence claim has exhibited direct exchanges which they say show Kita informed Sanogo of the proposed transfer fee for Sala. Cardiff said it is not clear why Kita informed Sanogo of the fee.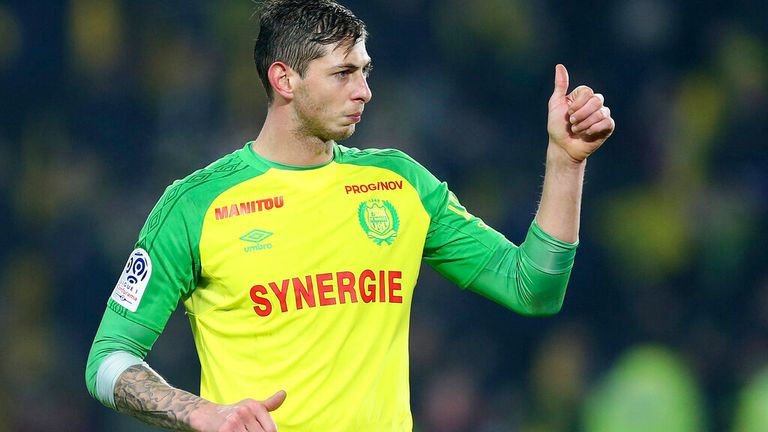 Cardiff said: "In the circumstances, the club considers that it would have been fairer if the requirement to pay FC Nantes had been deferred until the conclusion of the French police investigations and the club's claim against FC Nantes in the French courts."
A week ago, the English Football League (EFL) announced an independent disciplinary commission had confirmed an agreed position between the league and Cardiff regarding a fee restriction.
Read more:
The story of Emiliano Sala: The deal, the crash, the unanswered questions
Sala was 'deeply unconscious' from carbon monoxide poisoning before plane crashed, inquest concludes
Pilot told friend plane was 'dodgy' ahead of fatal flight which killed Emiliano Sala
Under the restriction, Cardiff could not pay fees in respect of transfers or loans for the January transfer window and are under the same restriction in the current summer window.
The EFL said the sanction related to Cardiff triggering the EFL's 30-day rule when it was late in making an initial payment to Nantes for the transfer of Sala, having been ordered to do so following a lengthy legal process involving FIFA, CAS and the Swiss Federal Tribunal.
The sanction was reduced in length from three transfer windows to two following an appeal.
The Official Football Merchandise Store Liverpool Chelsea Manchester City Arsenal Tottenham Hotspur Manchester United Leicester City Newcastle United West Ham United Barcelona Real Madrid

Source link